Designing a product is designing a relationship.
-Bill Bernbach
We believe that creative minds think alike; so how about making them think together? If anything, it will ensure only great results. So, if you think we can be of any help to you, why not join our forces together!
DESIGN PARTNER
Kreative Fingers has formed a wide chain of network with a number of web design and print design companies offering quality support as the one-stop, back-end production unit. Whether it is web design, graphic design, or logo design- you just come up with your requirements and we can offer you top-quality outsourced design services within your desired time frame at exciting prices. Cut down on your overhead cost, infrastructural expenditure and avail the services of the best talents via dedicated hiring.
Who can be our design partners?
Design companies
Digital marketing agencies
Advertising houses
Individuals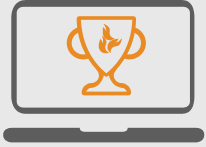 Why Us ?
100% Original And Customized Work
In House Team Of Qualified Professionals
Quick Turnaround Time - Within 24 Hrs
Variety Of Design Options
Competitive Pricing
Cost Savings As High As 70% Or More
Check out some of the key features of our outsourced design services:
1

All time, quality support offering your customers a reason to smile

2

There is greater transparency in the service we provide, while we remain anonymous

3

Our pool of creative designers thinks and acts, lending uniqueness to the designing projects

4

Attractive pricing so that you can make higher profits

5

We help you to get higher ROI and build your brand image with the top-quality work you deliver to your customers

You focus on marketing side and grow your business. We take care of all the design work.

Our current partners have grown there business in leaps and bounces and making great deal of . You can be a one stop IT solutions
offering design and website development services overnight by just teaming up with Kreative Fingers.
Sign up with us and be the part of world wide team.

Virtual staffing

Want to cut down on your actual cost by around 50 to 60%?

At Kreative Fingers, we help our customers to hire our virtual staffs for their business needs. So uninterrupted workflow gets ensured no matter in which part of the globe you are placed in! Hire our offshore staffing solutions, make the best of our experience of over a decade in the designing arena and the talented pool of designers we have on board! Whether you are looking for temporary or permanent resources for dedicated hiring, short-term or long-term contracts just sign up a deal with us as per your business planning and needs.
Who should hire?
Small or medium-sized designing companies
Advertising houses
Digital marketing companies
How this process of virtual staffing works?
Based on your requirement, you can send us a brief along with necessary details

We can set up a team or chose a dedicated designing professional who will work on your project

You can directly have a live video chat or choose your communication mode with the virtual team consultant or project manager

You can hire the services of our dedicated virtual staffs on an hourly/weekly/ monthly basis as decided beforehand
1

Hire a logo designer

Get a custom made logo that reflects your brand's personality.

2

Hire a graphic designer

Whether it is leaflets, flyers, business cards, brochures, vehicle signage, magazine adverts- no matter what are your graphic designing needs; our dedicated designer can give you the best output!

3

Hire a web designer

If you are looking for mobile website design, responsive web design, animation, banners, microsites, get a professional web designer or a team for giving the right professional touch to your website in a cost-effective way!

4

Hire a web designer

Hire a team of SEO specialists or a dedicated SEO strategist for your website's higher search engine ranking in Google and the other top search engines in an ethical way!

5

Hire a web developer or programmer

Let the coding part of your website to be technically perfect. Hire a web developer with expertise in XHTML and CSS. Know more by hiring our dedicated virtual web programmer.

6

Hire a content developer

Want an expert content developer delivering SEO articles, blogs, press releases, e-books, product reviews, web pages and much more?

7

Hire a social media executive

Make your brand's presence felt online with social media exposure in the top social channels like Facebook, Twitter, LinkedIn, Google+, etc.
How this process of virtual staffing works?

Reseller
Kreative Fingers have a long list of Resellers located across the world.

Most of them are situated in Australia, UK, USA, Switzerland, Dubai etc.

We can help you to boost your profit graph! Are you wondering how? Is it only via unrivalled custom logo design, graphic design and web design services? Well, we walk that extra mile offering you the scope to join hands with us and grab the reselling opportunity!
Who can be our resellers?
Advertising agencies
Graphic designing agencies
Digital marketing agencies
Designers working as freelancers
Anyone related to graphic design and web
designing business, wanting to make money
How it can work for you to make money?
You are the face for your client base offering riveting logos, amazing web design and graphic design services at unbeatable prices. It helps your customers' brand identity to flaunt a distinctive look! It is your name that is getting popular; YOU earn recognition and reward, while we act as the backbone producing some eye-grabbing designing solutions. It, in turn, makes you to have a happy bunch of clients.
Get in touch with us and brief us about the bulk work that you want us to generate within the stipulated time. We will offer you the best possible discounted quote and can initiate the business relationship from the word 'go.' Cash in our experience and choose the right business path with us!
What you quote to your customer in the business dealings is completely up to you, and you keep the extra amount as profit. Your happy customers will have no knowledge about what goes on 'behind the scene.' The copyright of all the designing work will be in your hand as the reseller!
The resellers that have formed a network with us are weaving their success stories by expanding their list of customers to whom they are selling the uniquely designed logos, web design or any form of graphic designs in voluminous quantity! Why not have your own business success stories?
This is why it works...
We are great designs at wholesale prices. One of the reasons we are willing to offer such great rates is because we can deal in volume. We offer wholesale rates to our resellers and hence they can further resell our services making a good profit. All you need is a good front-end and a strong marketing channel and we can handle everything else. We work as your design backbone.
This design reseller deal is even more attractive when you consider the massive demand for this service. Online Business opportunity continues to grow and one thing is common to all online business that they would need design help, starting from logos, to graphics, websites, banners etc. This boom in the online business industry generates thousands of new business opportunity for you on daily basis.
Our current resellers are making great deal of success in reselling our design services. You can be a one stop IT solutions offering design and website development services overnight by just teaming up with Kreative Fingers. sign up with us and be the part of world wide team.
sign up with us and be the part of world wide team.

AFFiliate
Affiliate programs are buzzing in the online business domain and the web merchants can definitely earn more, make additional profit with the help of their websites. Affiliates help in pulling traffic and increasing the sales graph for business websites and receive a commission in return!
How it works
When you become a part of our affiliate program, a wide variety of banners along with the textual links will be handed over to you. All you need to do is position those within your website to grab maximum eyeballs! When a user visits your website, navigates it and clicks in one of the links, he will land up in our website. All the user-activity is tracked by our affiliate software. Based on the performance fee structure settled, you will earn a commission.
Just flip through these lines to know about our Affiliate program that we offer.